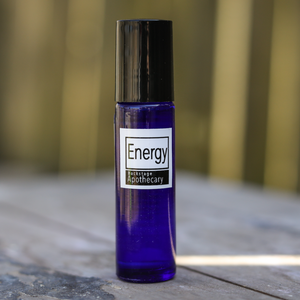 Rosemary creates an invigorating environment and promotes a sense of clarity while Peppermint refreshes the mind and senses. Lemon brightens everything with its joyful aroma.
Apply to wrists and inhale deeply to energize your day.

Apply to pulse points as needed through the day.
This product is available in a 10 ml cobalt blue glass bottle with a stainless steel rollerball.
Ingredients: Organic Fractionated Coconut Oil with Lemon Peel*, Peppermint Leaf, and Rosemary Therapeutic-Grade Essential Oils
*To prevent a possible phototoxic reaction, avoid direct sun and UV exposure for up to twelve hours after skin application